It is critical for our customers to locate product flaws before their circuit boards reach the market. As such WORLD complete an exhaustive and thorough burn-in testing process. We also put every circuit board through temperature cycling so that our clients can rest assured of the quality of their finished product.
The Burn-In Testing Process
The burn-in is a common testing process whereby the components of a given system are put through a trial run prior to their release for sale, and occasionally prior to assembly. The goal of this process is first to ensure that the components generally meet the specification for our clients' various goals, and second to weed out any accidents of the manufacturing process which affected specific, individual components. WORLD is capable of testing throughout the manufacturing process, or simply at its conclusion.
During the burn-in process, it becomes possible to detect any components that will fail not because of a specific physical defect, but because of a more general failure of quality control during assembly. Any components that fail during the initial phase of the so-called bathtub curve are removed and replaced. This leaves behind only those components that WORLD can be sure will only fail after extensive, hard-wearing use, a significant benefit for all our clients.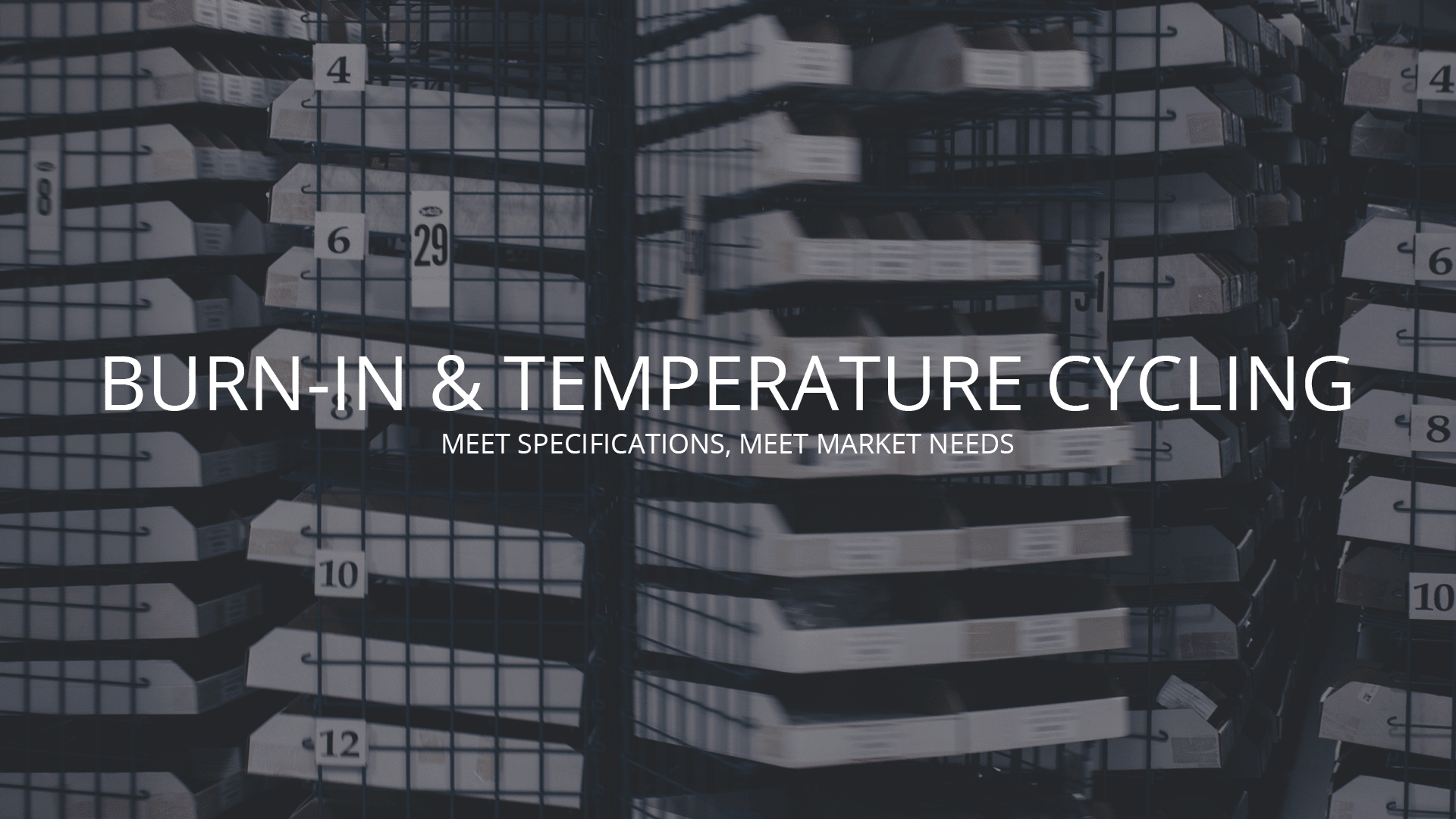 Burn-in testing is conducted at an elevated temperature, and in certain cases, at an elevated voltage. Temperature cycling is a similar process, whereby the components are tested first at a low temperature, and then at a high temperature. This form of the environmental stress test is designed to replicate real-world conditions, where the products of our clients will be used at both high and low temperatures and will experience failures like power surges.
After burn-in testing, we can better understand the load capacity of any given component, and say with certainty that the product meets our clients' specifications. Given WORLD's extensive experience with these processes, we have refined our manufacturing process such that they now result in the failure of only a small number of assembled products, making manufacture quicker and more reliable.
Worlds Testing Equipment Provides
Our testing equipment has been carefully chosen to impose the most comprehensive, demanding and reliable burn-in and temperature cycling processes among our competitors. Our extensive testing results in the following benefits:
reduced product development time
increased customer confidence
100% product quality and reliability
a forecast life expectancy
reduced circuit board manufacturing costs
increased profitability
reduced after sales service
In terms of testing equipment, WORLD has spared no expenses. Our environmental chambers used for temperature cycling can become as cold as -84 degrees centigrade. At the other end of the spectrum, our low-mass nichrome heating elements are used to reduce thermal lag and provide rapid response to instrument demand up to 190 degrees C.
Uniform conditions within the chambers are centigrade assured using a vertical-down recirculating conditioning system. WORLD demand the most consistent and precise testing of all products because, without consistent and precise testing, reliable products are impossible to manufacture. These factors combine to reassure our clients that they receive the best possible product from WORLD, every time.